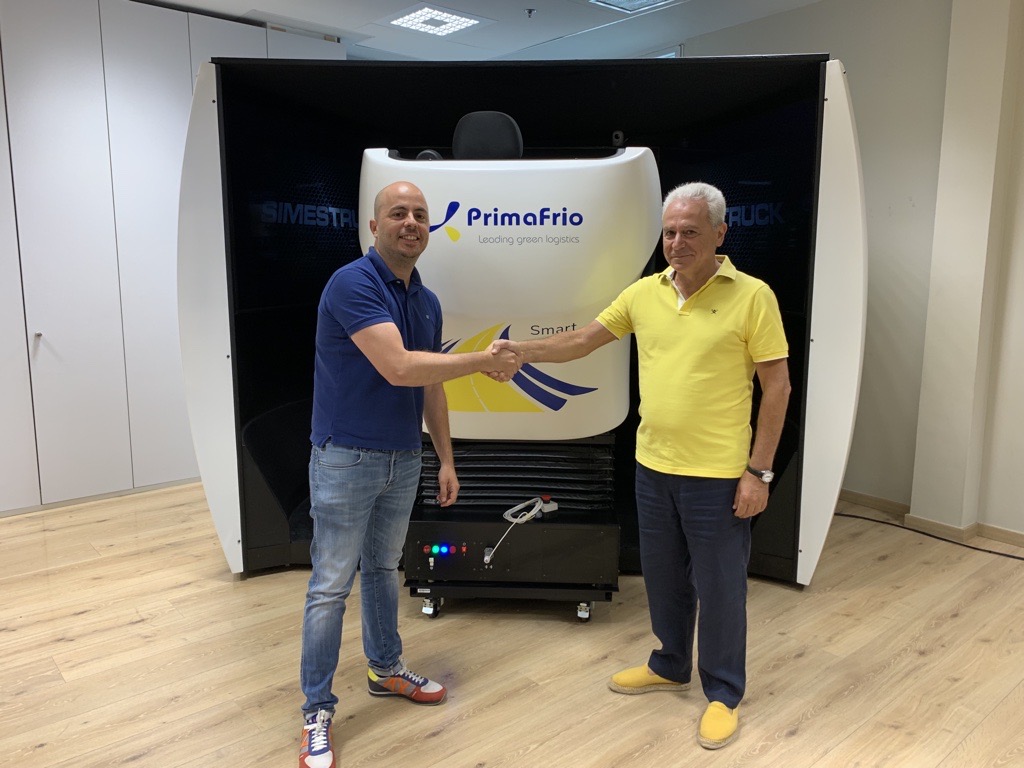 22 December

Simumak and Primafrío collaborate in the development of a truck simulator aimed at promoting safe and efficient driving

simumak and coldspring collaborate in the development of a truck simulator aimed at optimizing the skills of its professional drivers in the areas of road safety and efficient driving. Thanks to the capabilities of the Simestruck simulator and its simulation ecosystem, training sessions can be customized and practices are recorded, making it easy to detect specific areas for improvement. With its use in its ongoing training program, the logistics operator expects to reduce its carbon footprint by 18% and the accident rate by 35%.

Thanks to its capabilities as a comprehensive provider of simulation solutions, Simumak has not only delivered a simulator, it has also developed a customized exercise plan aimed at BBS (Behavior Based Safety). They take into account the preparation before starting the trip and good practices regarding attention to the road, traffic regulations and efficient and rational driving; training
decision-making in risk events that may occur on the road. The brand's corporate image has also been incorporated into the vehicle.
Simumak and Primafrío collaborate in the development of a truck simulator
As stated by Primafrío, which is one of the main logistics and road transport operators of fruit and vegetable products at controlled temperatures in Europe, "the use of a virtual simulator allows Grupo Primafrio to reduce 150 tons of carbon dioxide (CO2) annually and greenhouse gases (GHG) per year, reduce vehicle maintenance and save almost 35.000 liters of fuel. As a result, its carbon footprint is reduced by 18% and by 35%
the accident".
Companies with large fleets and those with a high number of new personnel benefit from an evaluation and training system that speeds up both processes and also makes them more precise and with greater capacity for improvement, because they collect a large amount of data that They detect the areas where to focus the training. In this way, the company ensures that each distribution is the most
optimized in terms of safety and efficiency.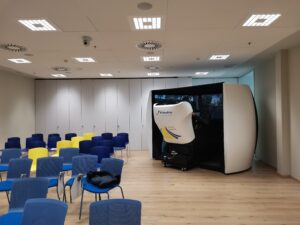 Simumak helps Primafrío detect areas for improvement and support its staff
The collaboration agreement between Primafrío and Simumak includes different aspects focused on improving driving skills for experienced professional drivers. These range from custom software developments (vehicles, scenarios), to the improvement of vehicle dynamics and physics based on joint work with truck manufacturers. The project has started with the installation of a Simestruck Platinum truck and bus simulator and the start of cooperation for the creation of a training plan tailored to their needs; mainly reduce fuel costs and increase safety.
Simestruck Platinum High Level Simulator
simmak and Primafrío collaborate in the development of a truck simulator: Simestruck Platinum. This is Simumak's most immersive cabin. It is a simulator with 75-inch screens that provide a 180º view, it also has a fully configurable 3-degree-of-freedom movement platform and a realistic dashboard where an experienced driver can feel like they are in a vehicle. real and where you will put into practice situations of your day
every day in order to improve their dexterity and performance.
The simulator is accompanied by an instructor position and an observer position. With the first, the instructor can interact with the driver, introducing faults, obstacles, viewing the vehicle's telemetry in real time (gearboxes, pedals, steering wheel...). Thus, the driver goes through specific situations that help him learn to drive under those conditions that the trainer is interested in introducing for training.
With the observer position, the rest of the classroom group can see what the person in the simulator is doing. This makes it possible to analyze the specific situations that are taking place and that the group can learn from the experiences of their peers. Not surprisingly, the main objective of this training is to train in decision-making in risk events that may occur on the road.