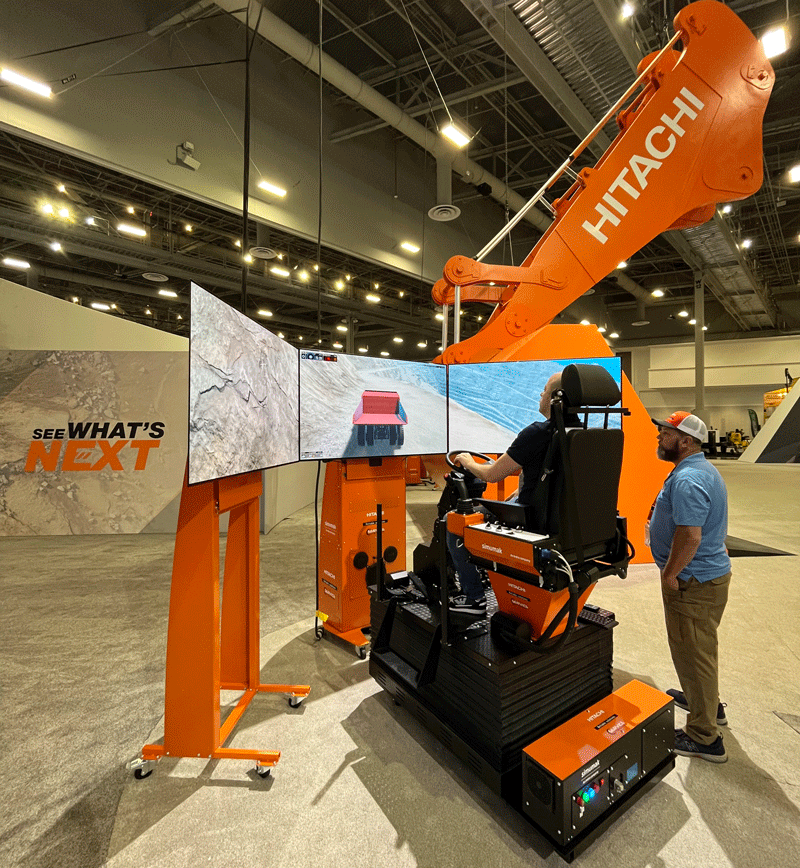 23 Mar

Simumak and Hitachi agree to distribute Minesim in America

4 years ago Simumak developed the first simulator for Hitachi. The development was launched from Hitachi Colombia, and it simulated 3 of the main mining excavators of the brand and 2 dumpers. Hitachi USA has always been interested in the evolution of work on the simulator and has been in CONEXPO 2023 where Simumak has been able to show the potential of its product at a fair, which is the world's leading industry and is held every 3 years in Las Vegas (Nevada, USA).
"We contacted Hitachi USA in December. They called us because they knew about the existence of the simulator that we had made a few years ago for Hitachi Colombia, but they did not know the product in depth. In the same week we had a call and sent them the Minesim OYD (so they could test it by mounting it on a desktop). They were immediately enthusiastic about the product and commissioned us to manufacture the first units, which had to be ready for the fair. The truth that was crazy; we had to produce two mining simulators in just 2 months, but it was the opportunity to attend the most important machinery fair in the world with Hitachi. it was clear that it was not going to be normal or easy. We accepted the challenge and a few months later I can say that I am very happy to have done it, because everything went perfectly" – David Moran, CEO of Simumak.
It has been more than 5 days of the fair, where more than 800 people have been able to test the simulators and It has become clear that the product will enhance the Hitachi commercial network, providing it with a product that will allow its clients to train on the technology and the functions and characteristics of Hitachi-Simumak machines.
Hitachi-Simumak Simulator: Minesim in Action
"There is no reason Hitachi mining customers should not want our simulator" – Alejandro Franco, American Sales Manager of Hitachi USA.
The roadmap will now consist of implement the original Hitachi controls on the simulators and close the product in the coming months, defining, between the two companies, the pedagogical plan. To do this, Hitachi will invest more than 200.000 euros and Simumak will allocate these resources to perfecting and enhancing a simulator that has already shown at CONEXPO that it is ready to proudly assume the great responsibility of being the official simulator of the Hitachi brand.
"We return very happy and with the feeling of having done our homework very well. For Simumak it is very important to start working in the USA; very few Spanish companies are here and we want to make the most of it"- Rubén Moran, CCO of Simumak.